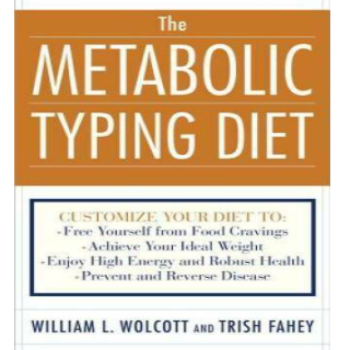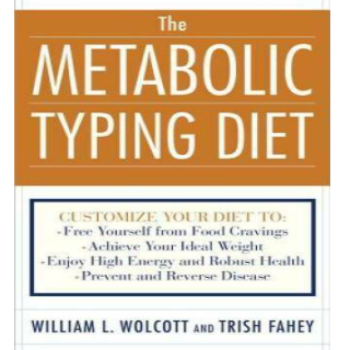 ---
---
Product Information

Customize Your Diet to Your Own Unique Body Chemistry For hereditary reasons, your metabolism is unique. Cutting-edge research shows that no single diet works well for everyone the very same foods that keep your best friend slim may keep you overweight and feeling unhealthy and fatigued. Now, William Wolcott, a pioneer in the field of metabolic research, has developed a revolutionary weight-loss program that allows you to identify your "metabolic type" and create a diet that suits your individual nutritional needs. In The Metabolic Typing Diet, Wolcott and acclaimed science writer Trish Fahey provide simple self-tests that you can use to discover your own metabolic type and determine what kind of diet will work best for you. It might be a low-fat, high carbohydrate diet filled with pasta and grains, or a high-fat, high-protein diet focused on meat and seafood, or anything in between. By detailing exactly which foods and food combinations are right for you, The Metabolic Typing Diet, at last, reveals the secret to shedding unwanted pounds and achieving optimum vitality with lasting results. The Metabolic Typing Diet will enable you to: - Achieve and maintain your ideal weight - Eliminate sugar cravings - Enjoy sustained energy and endurance - Conquer indigestion, fatigue, and allergies - Bolster your immune system - Overcome anxiety, depression, and mood swings




Product Identifiers

Publisher
Potter/Ten SPEED/Harmony/Rodale
ISBN-10
0767905644
ISBN-13
9780767905640
eBay Product ID (ePID)
1972556



Product Key Features

Format
Trade Paperback
Publication Year
2002
Language
English



Dimensions

Weight
11 Oz
Width
5.2in.
Height
0.9in.
Length
8in.



Additional Product Features

Dewey Edition
21
Illustrated
Yes
Dewey Decimal
613.2/5
Age Level
Trade
Copyright Date
2002
Author
William L. Wolcott, Trish Fahey
Number of Pages
448 Pages
Lc Classification Number
Rm222.2.W583 2002
Reviews
"Metabolic typing is a huge step forward in the field of diet and nutrition, and this book is essential for anyone interested in optimizing their health by exploring their own biochemical individuality." --Sherry Rogers, M.D., author of Wellness Against All Odds From the Hardcover edition.
---