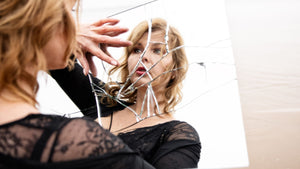 Want to change your life? Well, self-improvement is NOT the answer.
There are hundreds (if not thousands) of courses, books, articles, heck even memes out there that preach about self-improvement: "Want to change your life? Change yourself."
The thing is, it's all a scam. You read that right: SELF-IMPROVEMENT IS A GIMMICK!
The fact – yes, FACT – is that we are already PERFECT – created as nature intended, according to the "manufacturer's blueprint". It's when we try to CHANGE this blueprint that problems arise.
To illustrate: let's take this little girl who is very creative, very curious about life and eager to express herself. She wants to be a little actress. She wants to be seen. She wants to entertain those around her. She wants people to cheer for her.
But this girl is being raised by parents who are very strict and who believe for whatever reasons they have – often because their own childhood trauma – that any kind of expression is wrong. These parents raise her based on the belief in keeping things low-key. Every time she is loud – she's trying to sing, she's trying to show off – she's told "No, be quiet. Sit down." Sometimes she may even get hurt – hair pulled, hand smacked. "Hey, I have company. I have important people over. Adults are talking, shut up. Children need to be seen but not heard." 
So, from the standpoint of a child, every time she uses the creative part of her, she gets hurt. She gets yelled at and even physically hurt. She gets told it's wrong – she learns it's painful to be creative. Eventually, in that child's mind, she concludes that in order to avoid that pain, she needs to minimize herself and be nobody. Creativity is evil – she needs to lay low. Self-expression is evil and should not be allowed. Emotion is evil. Logic – ah, that's where it's at.
When this girl grows up, she becomes an accountant because it's the farthest thing from being creative she can think of. Again: she has come to believe logic is where it's at. She dresses in very gray clothing and gets a job in a cubicle doing numbers. But she's going to be horrible at it and it's going to take her a lot of time to do that because that's not her potential. Her left brain (the side responsible for logic) is not developed, unlike her right brain (responsible for creativity) … which ironically is not put to use here.
She went to school and did her due diligence, but it's not working for her – the accountant that got produced out of that is a lousy accountant. She does not have the abilities, and she's probably hating life doing that because it sucks. It's like doing that class in school that you just don't like – it's slow, it's painful. She's probably wondering what's wrong with her – because of what she perceives to be right, she "knows" it's the "right", but for some reason it isn't going anywhere. So, she ends up depressed or experiences other symptoms that her emotional intelligence and sending to her, telling her the situation is wrong.
In the meantime, that very talented actress is locked in dungeon, denied bread and water and air, oftentimes almost starved and suffocated to death and not allowed to see the light of day. Nobody will never see that talent – whole world misses out.
So, again – where does self-improvement fit into that?!
All self-improvement approaches are based on the premise that you need to become better – you need to be something else than which you are, basically creating a better image.
However, if we look at the universe and the world, you will see that creation is perfect. (I don't mean to get into creation versus evolution discussion here. When I say 'creator', you're free to look at the creator as billions of years of trial and error, or you are welcome to look at the creator as an intelligent being – a God who created everything and perfection.)
The point is that if we look at nature, we'll see that it all functions in absolute harmony… at least until we as humans take our own very limited intellect and try to apply it as the ultimate solution to everything.
Let's say we exterminate some kind of bugs because we think it's a pest. Then the birds that were eating the bugs die out. And without the birds to naturally keep them under control, other pests in the trees that we weren't aware were there multiply. Then it gets to the point that the trees they infest die, and the whole forest turns into a desert.
So much for human intellect as the solution. See, that's what happens when we step in. But until and unless we do, nature functions at its ultimate and is indeed perfect.
This also pertains to us – we all begin as perfect beings but are almost inevitably altered throughout childhood. Parents – even with the best intentions – pass down their own limitations and even damage. Or perhaps they rely on intellect (which is only 1/16 of human perception) when it comes to raising that perfect baby into adulthood. Or perhaps you are shaped by societal and cultural norms. Or, in the case of most people, it is all of the above.
What happens – think back to the girl who wanted to be an actress – is you lose your true self, and an artificial image takes its place. This image claims to be and starts functioning in the place of you. This image is NOT according to how you were created – it lacks true life and the perfection of the manufacturer's blueprint. It's basically a zombie… and zombies are evil. This is where we run into "bad luck."
So, yes, self-improvement is a gimmick. The key lies NOT in changing yourself to fit someone else's idea of what we should be like. In fact, it's quite the opposite: being able to discover who you are MEANT to be and live as your true self.
Instead of self-improvement, what we should actually strive to do is get back to manufacturer's blueprint – the most beautiful, perfect form creation intended us to be.
Watch more on living as your true self and maximizing your potential HERE.
---