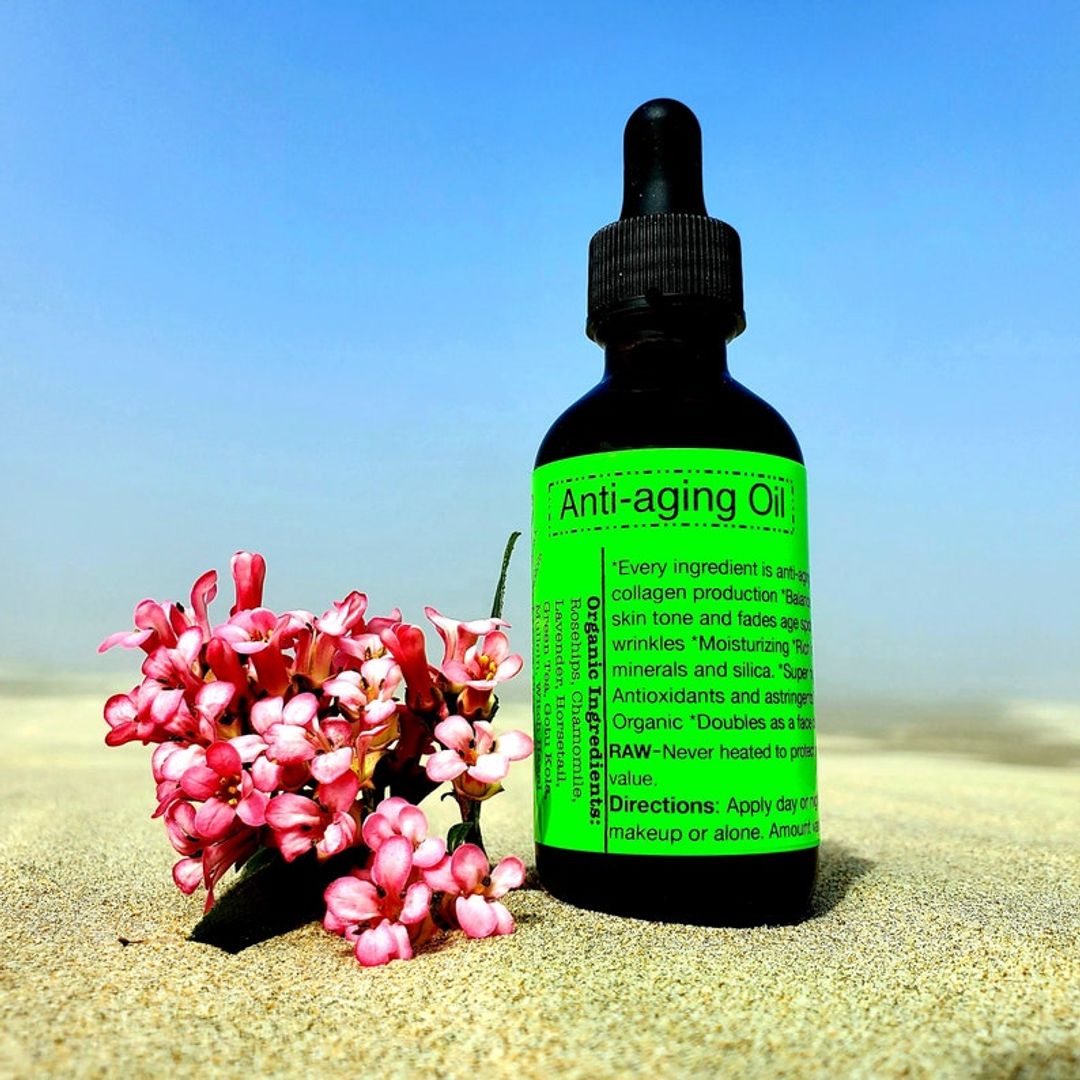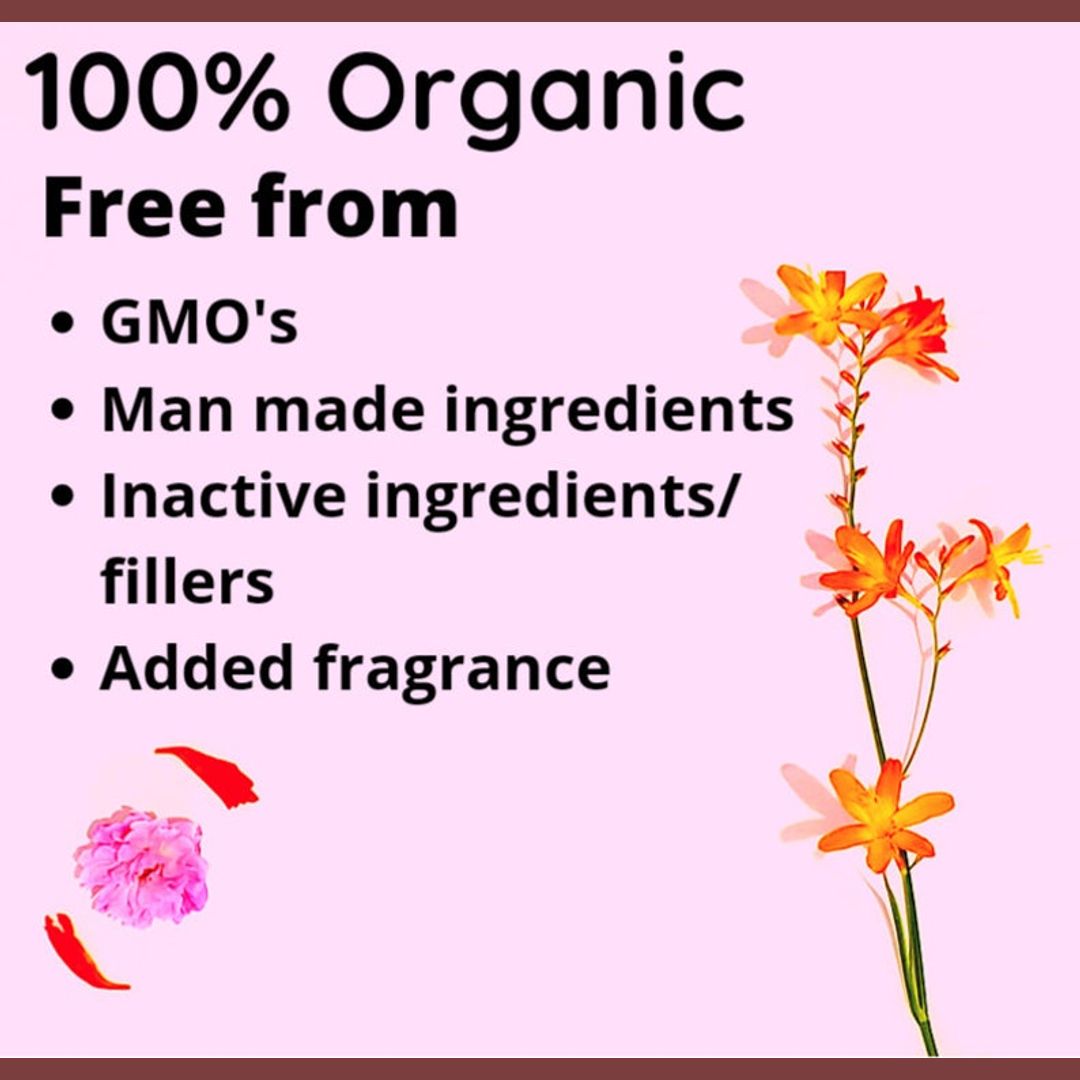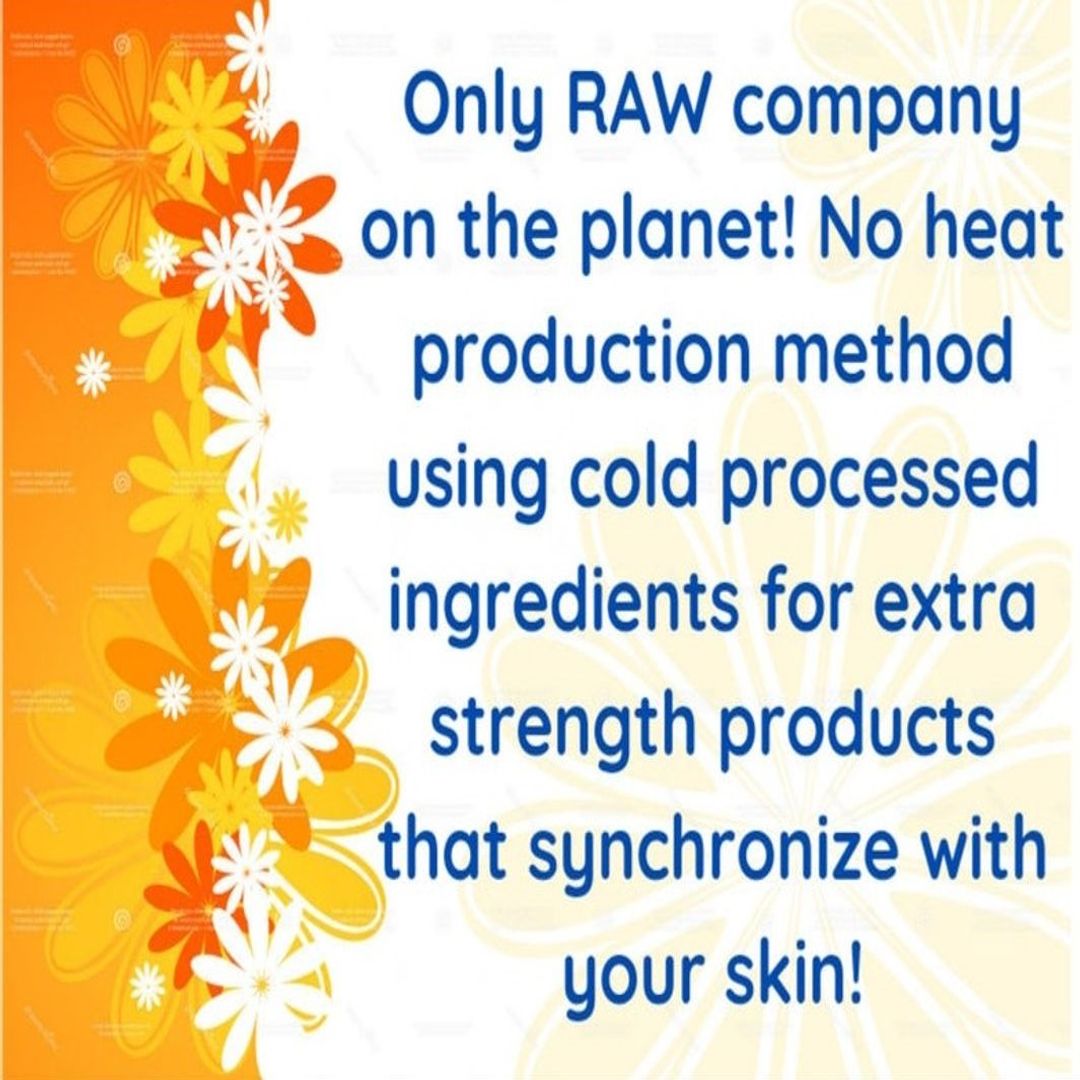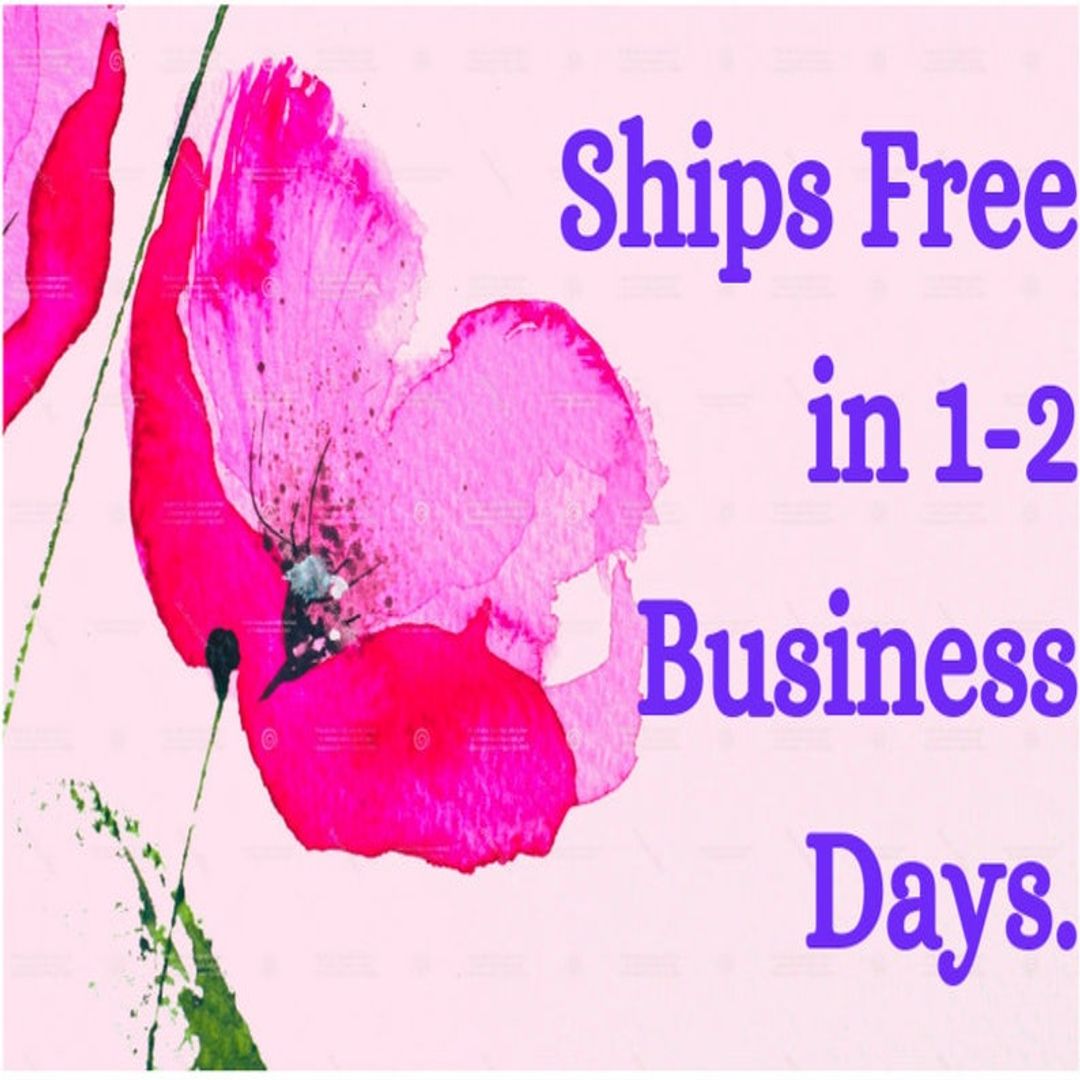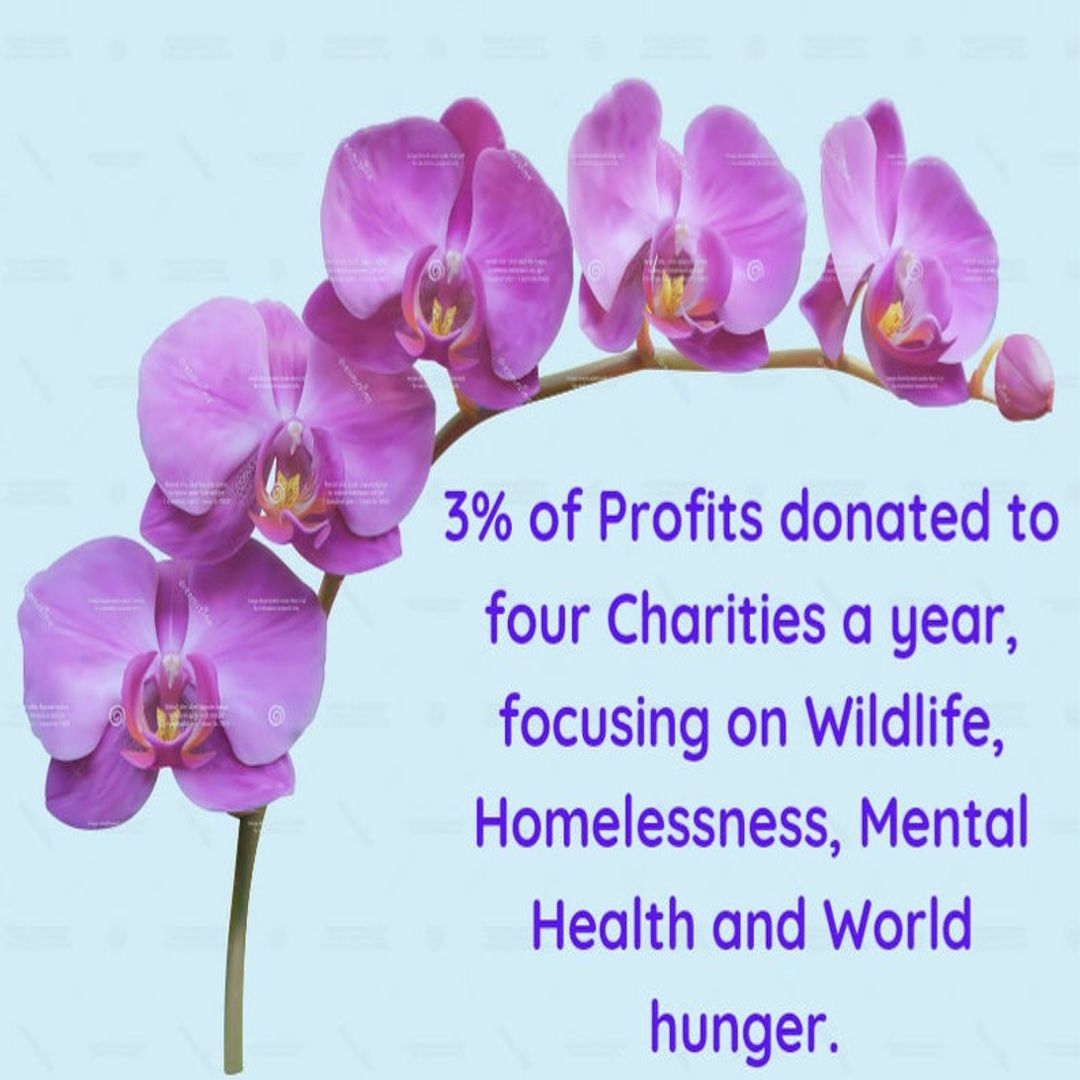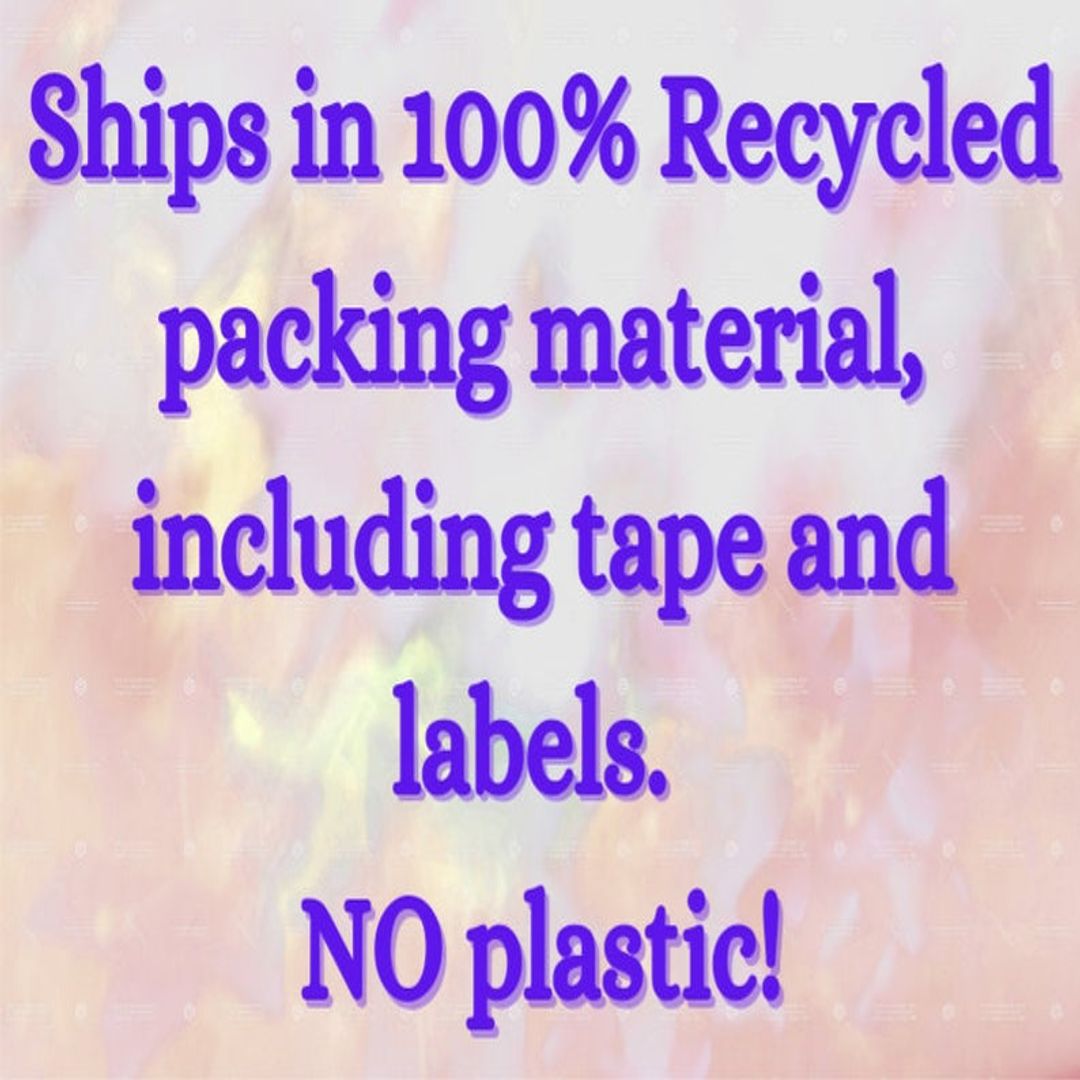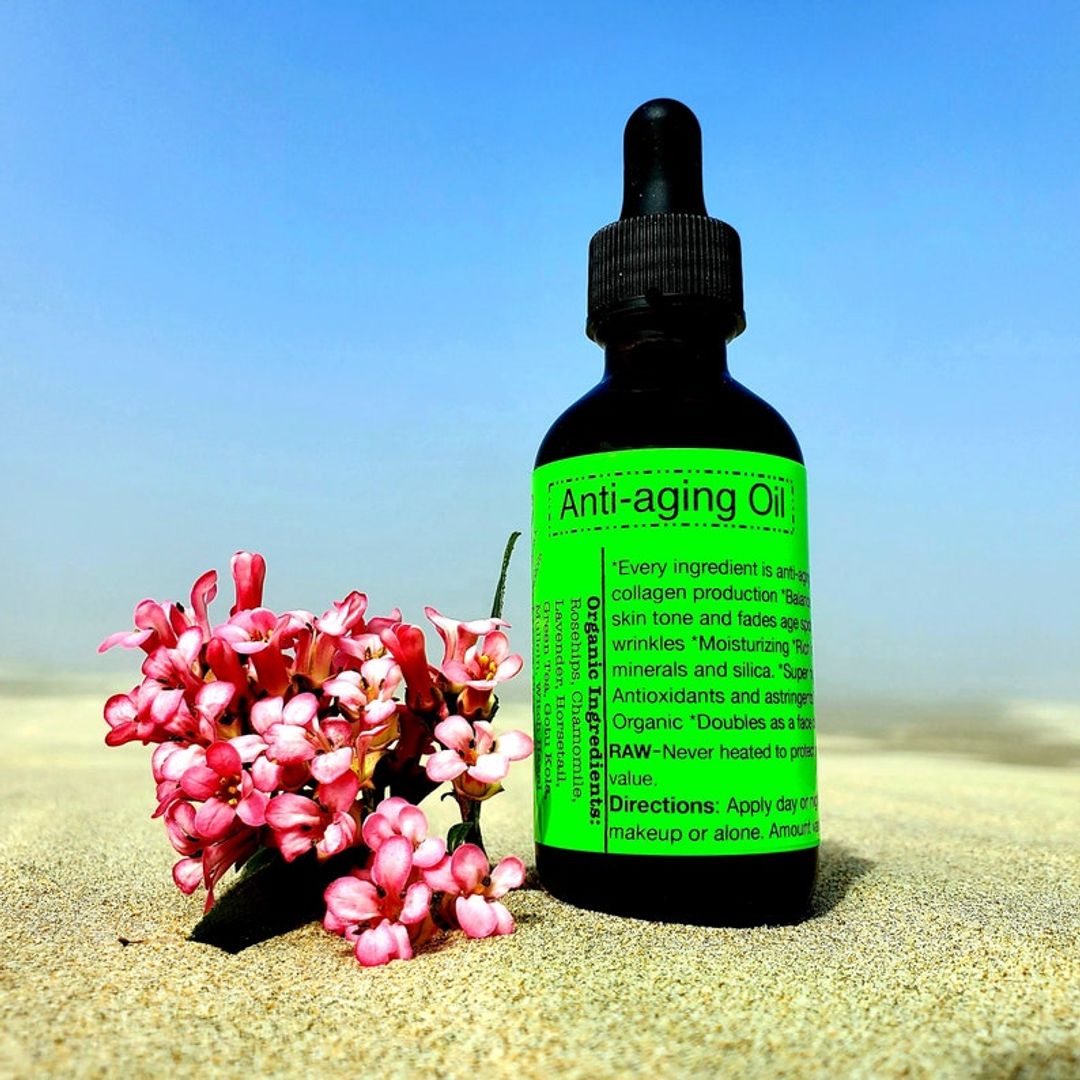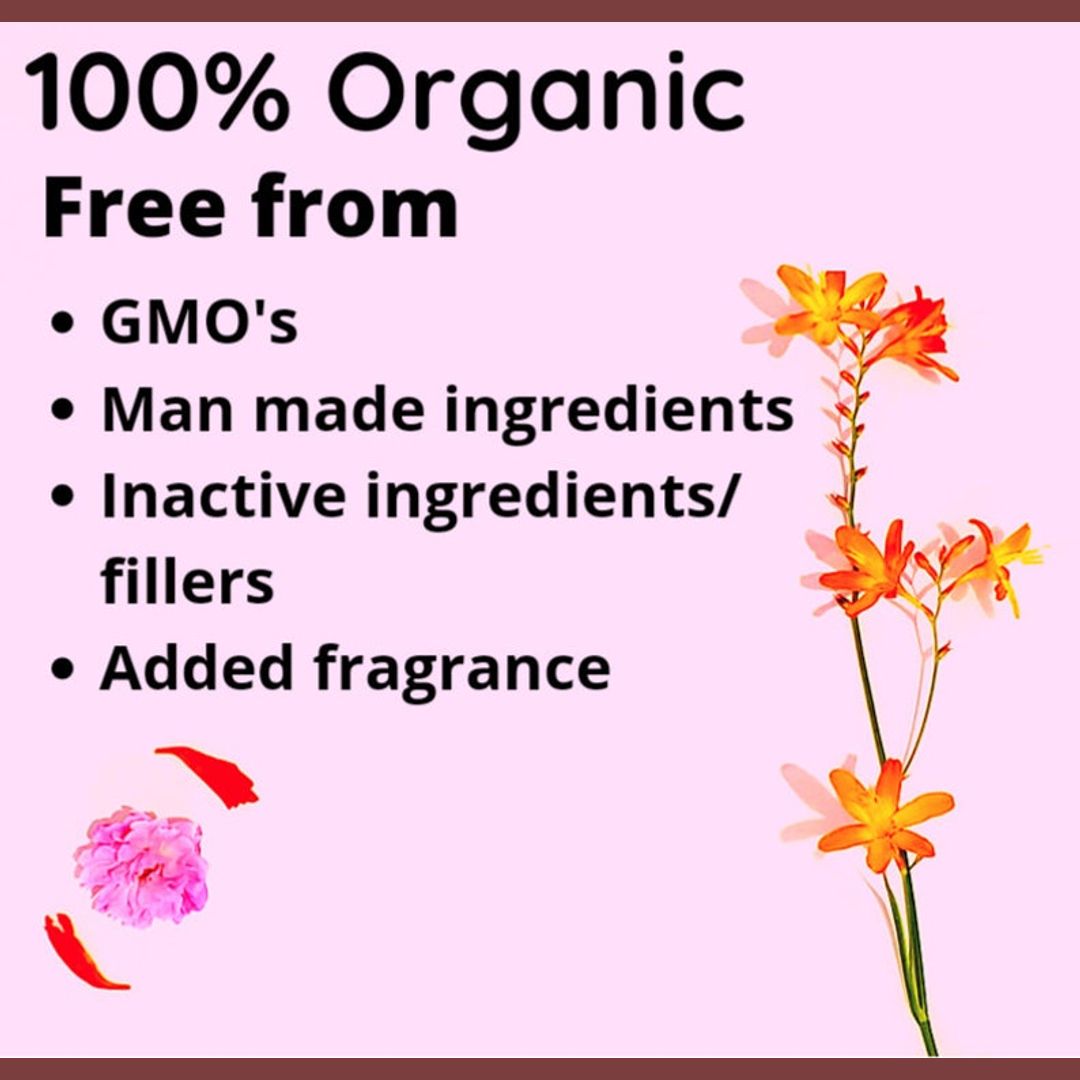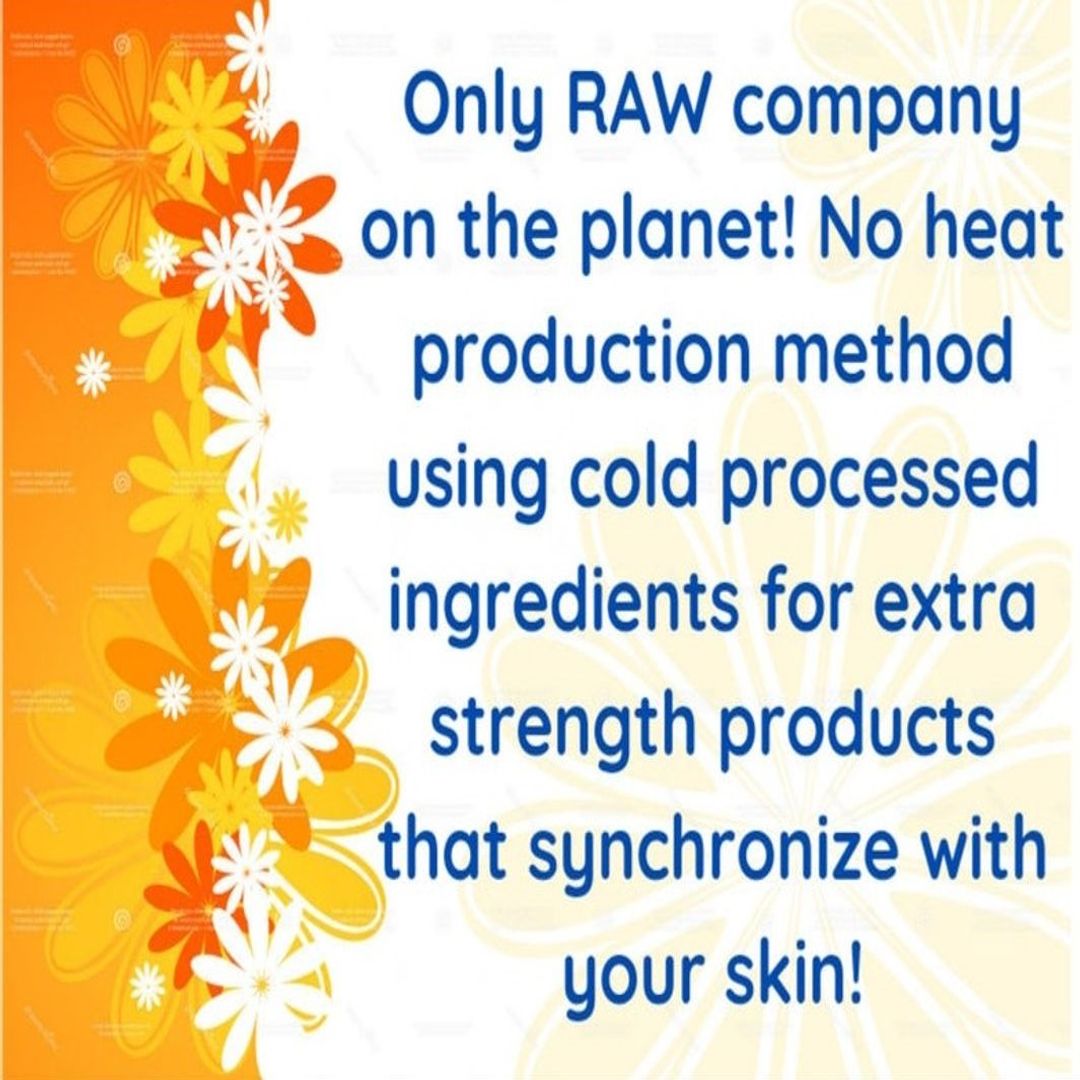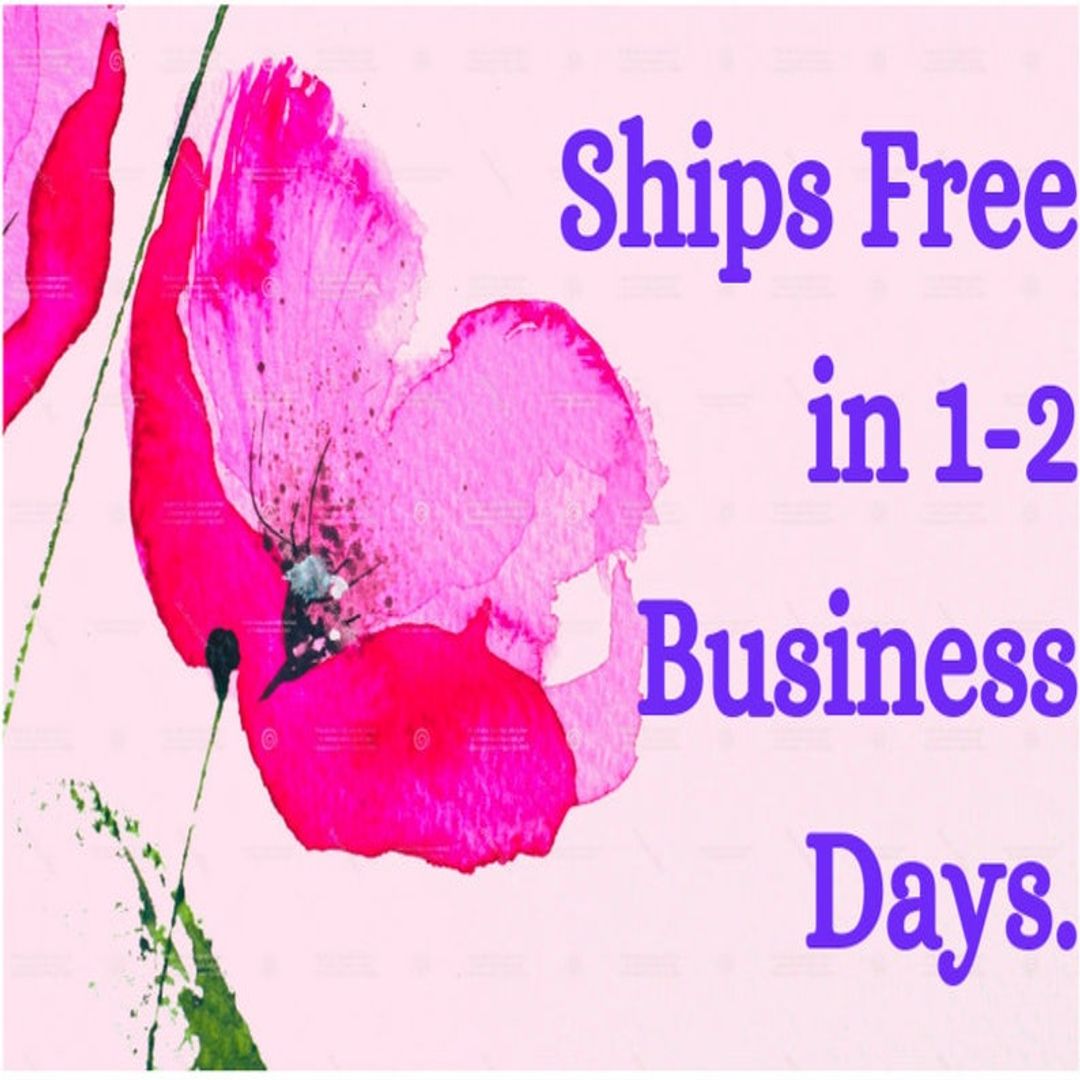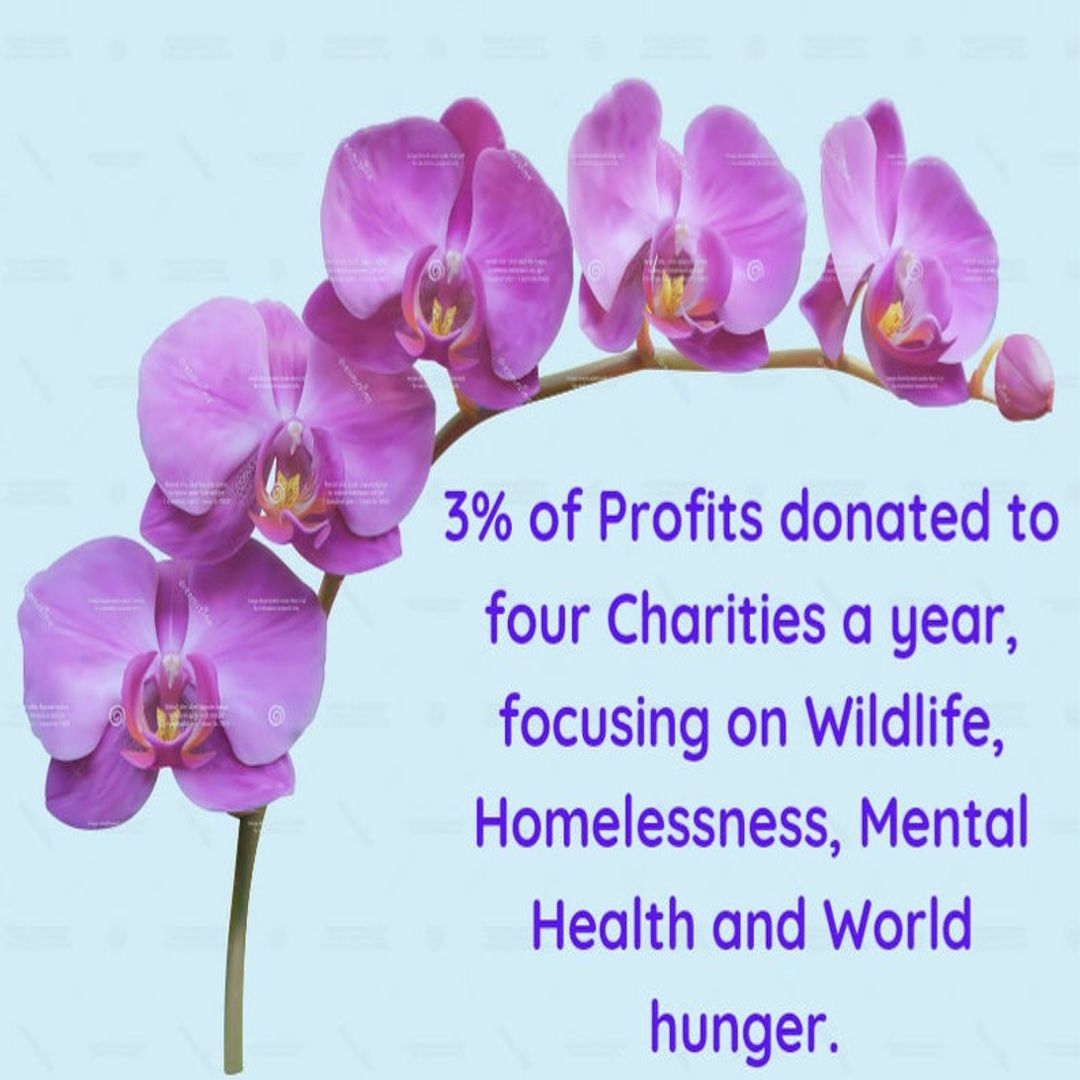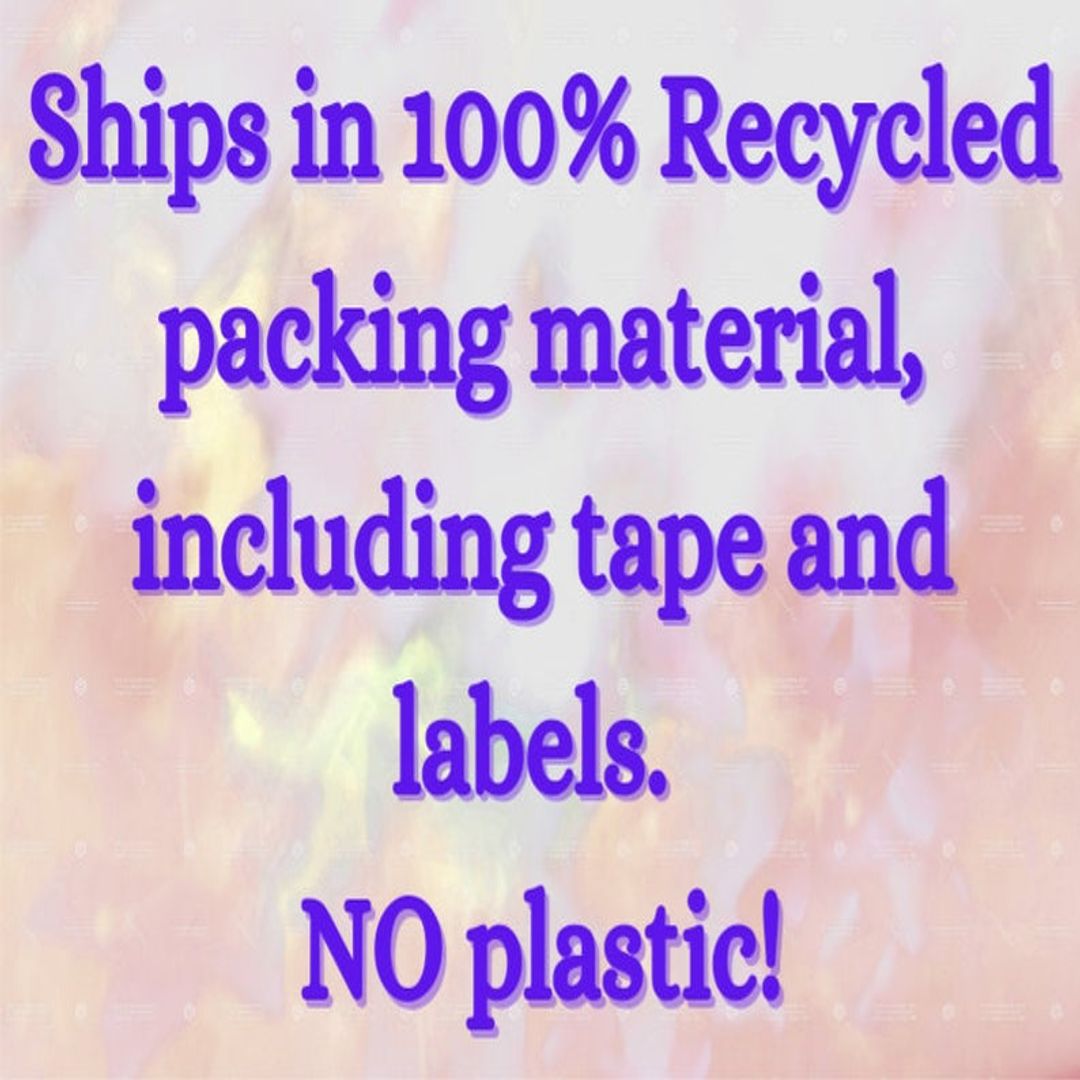 ---
---
Every ingredient in this daily moisturizer has anti-aging qualities. Starting with the antioxidant and vitamin rich oil base, which is high in Squalane, a crucial component of skin elasticity. The amount of Squalane our bodies produce starts to decrease after age thirty, causing skin to loss its firmness. The most natural vegan source of Squalane is olive oil, hence it's heavy use in ant-aging and beauty products for thousands of years. The oil base was cold infused with the top anti-aging herbs, high in vitamins, minerals, fatty acids, tannins, astringents and anti-inflammatory. This herbal blend shrinks enlarged pores, tightens skin, diminishes wrinkles, age spots and scars. Many of the herbs used stimulate collagen production and increases circulation for firm, oxygenated, nourished skin with a youthful glow. Silica improves collagen production and you won't find a better source than the herb Horsetail! Since a great deal of skin aging is caused by environmental stressors, most of the ingredients used have a high antioxidant count to prevent and reverse environmental damage.
Directions: Apply up to a nickel size amount to your skin, the amount varies by skin type so play around with it until you find your perfect amount. Can be applied night or day, works great under makeup. Try the Anti-aging Mask for baby soft skin and follow it up with this oil.
Face Cleansing directions: To use this oil as a cleanser apply a quarter sized amount of oil to your dry face. No makeup removal is necessary before this method. Gently massage the oil onto your face for 30-90 seconds. Using medium hot water and a rag wipe off the excess oil from your skin.
RAW-Never heated to protect medicinal value of ingredients. This oil blend was cold infused for 6 weeks. Totally ORGANIC-Out of love for the planet and us! 2 year shelf life. A 1 oz. bottle will last 2-6 months.
***Due to the heavy nature of this oil, it may not be suitable for acne prone skin. May still be used in conjunction with the Acne & Scars oil as a spot treatment under eyes, on wrinkles or under chin for firming and sculpting. Heavy oils like this are best for mature skin, dry skin or anyone without acne issues.***
Organic Ingredients: Rosehips, Chamomile, Lavender, Horsetail, Green Tea, Gotu Kola, Mullein, Witch Hazel Leaves, Cleavers, Gingko, Comfrey, Calendula, Rosemary, Bilberry Leaf, Slippery Elm, Olive Oil, Green Tea Oil, Jojoba Oil, Evening Primrose Oil, Rosehip seed oil, Vitamin E Oil.
---------------------------------------------------------------------------------------------------------------------------------------------------------------------
Rosehips and Rosehip Seed Oil: Used by the ancient Egyptians, Mayans and Native Americans because of its healing properties. Full of vitamins, antioxidants and essential fatty acids that are known to correct dark spots and hydrate dry, itchy skin, all while reducing scars and fine lines. It protects the skin and increases cell turnover because it contains vitamin E, C, D and B-carotene, a form of vitamin A, which are all antioxidants that help fight free radicals. It is particularly high in vitamin C, making it one of the richest plant sources for the skin. Stimulates collagen production.
Chamomile: Overall a great herb for any face oil, chamomile also tones skins and is anti-inflammatory. Tones, cleanses, treats psoriasis, acne and eczema, antibacterial, antioxidant anti inflammatory, deep cleanses, fades scars.
Lavender: Helps your body produce three of your body's most powerful antioxidants, glutathione, catalase and superoxide dismutase. Diminishes age spots.
Horsetail: Healing herb for skin, astringent, it has a firming and tightening action on the skin. Treats acne as it helps eliminate excess oil from skin. Horsetail has a very high silica content, a constituent of collagen. Collagen keeps your skin youthful and supple, so horsetail is one of the important anti-aging herbs for skin, and can help with sagging, loose or rough skin, wrinkles and premature aging.
Green Tea: Reduces acne inflammation, antioxidant, reduces scars and stimulates skin repair. Extremely high in antioxidants and vitamins. Pore minimizing, skin toning astringent. Reduces acne inflammation, antioxidant, reduces scars and stimulates skin repair. Full of antioxidants and rejuvenates dying skin cells, astringent, tightens skin.
Gotu Kola: Used historically for skin ailments, enhances production of collagen, accelerates fading of scars, tightens skin, diminishes age spots. Stimulates collagen production and increases circulation.
Mullein: Tightens and tones skin, increases blood circulation providing more oxygen to the skin.
Witch Hazel Leaves: Tannins in witch hazel make it a natural astringent, contains a high level of polyphenols; the same compounds used to create anti-aging supplements that help slow down disease. As it's a natural anti-inflammatory and antioxidant, it's able to battle free radicals to protect against DNA damage.
Cleavers: All around amazing skin herb, deep cleanses, tightens skin treating droopiness and wrinkles, rejuvenates skin, treats common skin ailments and acne.
Gingko: Ginkgo's main promise in skin care is its antioxidant compounds. Since much of skin aging is caused by environmental stressors. Ginkgo's ability to protect may help reduce the appearance of wrinkles and fine lines. Extracts from ginkgo leaves have also shown to help with oily skin and clogged pores as well as for people with sensitive skin.
Comfrey: Promotes skin elasticity.
Calendula: Mostly widely used herb in skin products. Anti Inflammatory properties soothing inflamed acne, exfoliates skin, treats acne and diminishes scars. Deep pore cleansing, skin soothing disinfectant, pH balancing. Stimulates production of collagen, overall an amazing herb for skin health.
Rosemary: Antioxidant, anti inflammatory, antibacterial, stimulates circulation, promotes even skin tone, treats stubborn acne and diminishes scarring. Astringent, increases circulation and repairs damaged tissue.
Bilberry Leaf: High in antioxidants and Vitamin E, Increases circulation and elasticity, increases skin hydration.
Slippery Elm: High in mucilage for moisture and diminishing wrinkles by reversing skin dehydration from extreme weather. Soothes, anti inflammatory, treats common skin ailments.
Olive Oil: Closest chemical structure to that of our natural skin oil. Regenerative power on skin that firms and tones. High in squalane a crucial component of skin elasticity. Rich in Vitamins A & E, minerals and fatty acids, highly antibacterial.
Green Tea Oil: Doesn't clog pores, antibacterial, regenerates skin cells, full of vitamins, protects from sun damage. Jojoba Oil: Jojoba Oil: Mostly comprised of fatty acids, extremely high in Omega 3 & 6. Stimulates the growth of new cells, restores elasticity of skin, restores collagen, high in antioxidants and Vitamin E, fungicide, non comedogenic.
Evening Primrose Oil: Regenerates skin cells, even skin tone.
Vitamin E Oil: Increases growth of new skin cells and restores natural elastic properties of the skin. Essential element in skin cell regeneration and maintenance. Creates firmer more elastic skin. Natural Preservative.
This statement has not been evaluated by the Food and Drug Administration. This product is not intended to diagnose, treat, cure, or prevent any disease.
---