Liquid error (templates/product.subscription-template-x line 3): Could not find asset snippets/spurit_sri-product-snippet.liquid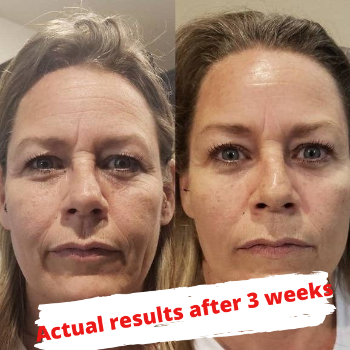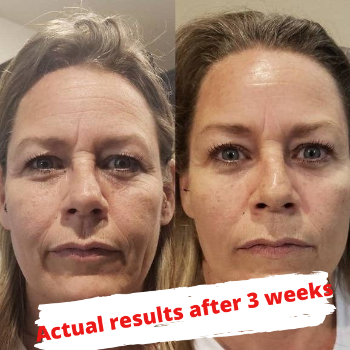 ---
*Your first month is $1 only. $39.99 thereafter with this discount. Cancel any time with one click.
---
The product photo may not look perfect -- but this is because it is a real, un-retouched and un-edited photo one of the actual program participants was kindly willing to share. And what do you see in it? RESULTS!
Do I need to say more? You can achieve amazing results without a facelift, without needles, or any other nasty and costly procedures. 
Also -- as you very well know, but as cosmetic companies don't like to talk about -- aging is a lot MORE than looks: it's your levels of energy, it's how often you get sick (and with what!), it's your mood and your overall well-being. 
In this program we address it all -- and battle old age on all of these levels. Yes, it is possible -- and yes, there is scientific proof for this, at the cellular biology level (join us to learn the details)
THE PROGRAM INCLUDES:
Personal assessment of your current situation and evaluation of the factors that are contributing to the existing issues
Holistic and Integrative medicine research/information shared daily: how our bodies work, how to fine-tune your body for thriving rather than surviving, and how to battle aging factors successfully

Weekly LIVE sessions with the coach. (Ever wished you could ask all those gurus your direct questions? You've got it here)
Access to diagnostic and assessment tests 
 A unique part of this program--and its main "side effect" is... vibrant health.  The way we look is directly connected to how we feel (in case you haven't noticed) -- and this connection goes a lot deeper than most most people realize. By trying to improve the way you look, you will be fixing a lot of underlying health, emotional and situational problems -- so this method is indeed holistic and natural.   
HOW IT WORKS:
After you join, you will be asked to fill out an intake questionnaire that will help me to get to know you, your main challenges and your goals a little better.  Based on your answers you will be placed into a small support group, where everyone can help each other by offering mutual support and sharing their experiences -- and where I will be sharing the important information regarding how your metabolism and your body works.

IN THIS GROUP YOU WILL GET:
Information to help you understand yourself (and what is going on in your body) better

Weekly live meetings for you to ask questions and have a discussion with the coach
Tests to help you understand your body and dial in possible issues. (These are offered at an extra charge, since everyone is going to need different tests, and a different number of them)
Videos explaining little known issues that are either success busters or useful shortcuts
Little knows tools that will help you reach your goals faster: natural remedies (both DIY recipes and available for purchase), face yoga exercises, face massages you can do yourself, etc. 
A personalized approach :

you will work directly with a beauty coach,

which will take YOUR situation into consideration: I will help you build your own, step-by-step action plan toward the goals that you define (and help you define them as well, if need be) -- AND bust through the obstacles on the way.
We shall be victorious!
THE PROCESS:
After you sign up for this program, you will be taken to the member page -- PLEASE CLICK THE LINK AND TAKE THE INITIAL ASSESSMENT.  Everything will be on hold until you do.

After you take the assessment,, you will be invited to a social group that best suits your needs.
Groups launch every Monday - the Monday following the week when you sign up. 
Groups are kept small, so that everyone's needs and questions can be addressed.
So, next Monday (whatever it may be, depending on the day that you sign up) you will receive a Group Invite by email. IF YOU DO NOT COMPLETE THE INITIAL QUESTIONAIRE (where you will be asked for that email, among other things) YOU WILL NOT RECEIVE THE INVITE THAT WEEK. You will receive the invite the following Monday after you complete the initial questionnaire. 

IMPORTANT. PLEASE READ:
As I mentioned above, this program works with what is going on in your body. What is going on in your body is related to your health.  If you're not comfortable discussing your health issues in a group setting, please use my PRIVATE CONSULTING SESSION instead: access it here.
You can use it INSTEAD of this program -- or (what I would recommend and what, to my mind, a lot less expensive and more effective option), you can sign up for the program and simply not share any health -related information there, but use the private session option to discuss health related issues. If you choose to share your health-related information in the group, you're doing so on your own will and initiative. I will never ask you to do this, and anything that I say that may resemble this request should be treated as a coincidence.  Please also read other related Terms and Conditions
I AM EXCITED TO HELP YOU ON YOUR JOURNEY TO YOUR WEIGHT LOSS SUCCESS!
PLEASE JOIN US TODAY!
Your first month is $1 ONLY.
$39.99 monthly thereafter
Cancel any time
---