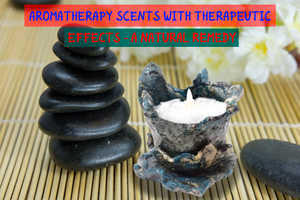 Using a candle to fight the flu??
As we push deeper into autumn and brace for the immunity-diminishing temperatures of winter, we look for natural and proven remedies to prevent and alleviate symptoms of the flu and the common cold.
We are increasingly more aware of the deleterious complications that come with overdosing with antibiotics (which we progressively develop resistance to) and certain chemical pharmaceuticals that are far too potent, and even more expensive.  That's where complementary aromatherapy and holistic health care enter in.
According to the National Association for Holistic Aromatherapy (NAHA), the use of pure essential oils for aromatherapy can help alleviate multiple conditions and ailments like the common cold.  "It is a natural, non-invasive modality designed to affect the whole person, and to assist the body's natural ability to balance, regulate, heal and maintain itself by the correct use of essential oils."
https://naha.org/explore-aromatherapy/about-aromatherapy/what-is-aromatherapy/
­­
Research shows that several essential oils (especially tea tree, oregano, peppermint, eucalyptus, lavender, lemon and cinnamon) can help prevent and treat the symptoms ubiquitous in the miserable cold and flu season. Dr. Lowdog (MD,
Prevention Magazine
) Some essential oils have been found to contain antibiotics antifungal and antiviral elements which are potent enough to aid treatment of cold and flu.
https://www.prevention.com/health/a20450501/best-essential-oils-for-cold-and-flu/
According to the Mayo Clinic, "Aromatherapy is thought to work by stimulating smell receptors in the nose, which then send messages through the nervous system to the limbic system — the part of the brain that controls emotions."
https://www.mayoclinic.org/healthy-lifestyle/consumer-health/expert-answers/aromatherapy/faq-20058566
. 
In other words, breathing in beneficial essential oils helps fumigate your immune system, purging out bacteria and toxins and helping you recover from colds and flu virus symptoms.
Dr. Mercola (DO) cites evidence that cinnamon is "One of the strongest antibacterial oils, working against such strains as E. coli, Pseudomonas aeruginosa, Bacillus subtilis and Staphylococcus aureus."
Our anti-flu candle takes the best plant-based antiviral properties and puts them to work to strengthen your immune system and help knock out those bacteria and other nasty cold and flu symptoms.  It's Mother Nature's cure for your winter blues.  
---