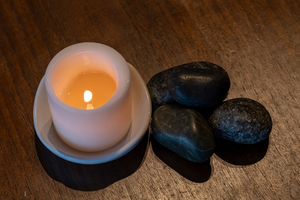 Aromatherapy Candle
Since the early times, aromatherapy is well-known as a therapeutic natural practice that can be employed to advanced beauty, health, and sense of ease. It has been practiced in different areas in the world throughout the centuries involving the use of essential oils in a variety of methods, either through bathing, inhalation, or massage.

Aromatherapy can be applied in different forms, and one of those is through candles. The candles have long been used as a mood setting addition to a particular room or occasion, and this goal was enhanced when the aromatherapy candles was introduced to the people.

On its most basic, the aromatherapy candle contains natural essential oils that are commonly absorbed through inhalation. It was actually found out by certain studies and researches that the aromatherapy candles possess a therapeutic as well as physiological effect on the mood through their fragrance. Further claims were even maintained that the aromatherapy candles are capable of creating a more romantic ambiance and does double duty in assisting disperse the preferred aroma throughout the room.

In the spirit of true aromatherapy, several experts have suggested using beeswax, soy wax, or palm wax aromatherapy candles instead of using paraffin. One of the supports for this advice is the fact that the paraffin contains carcinogenic chemicals that are obviously not good to the body. In the making, such waxes are treated with essential oils, which are actually the potent elements of an aromatherapy candles.

In a particular aromatherapy candle, the wicks are commonly trimmed, and the essential oils are added at the top of the candle, and not on the wick itself. Aside from that, you may also know that the essential oils are particularly added after the aromatherapy candle has been lit and there is a little pool of wax at the top of it. The reason for this is basically to produce the desired effect of the candle.

Speaking of essential oils, one of the most popular essential oils employed in the aromatherapy candles is the lavender. This essential oil is in first place said to alleviate stress and anxiety, thus promoting a much better well-being. There are also other essential oils that are typically used in the aromatherapy candles, and this involve the eucalyptus, ylang ylang, geranium, peppermint, lemon, sage, chamomile, rosemary, and grapefruit, to mention but a few. All of these essential oils necessary for the aromatherapy candles however are said to promote a variety of favorable mood, making them great as forms of aromatic treatment.
---